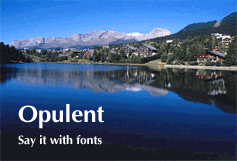 Installing fonts

Microsoft:
Apple:
ClearType
Font Editors
Find Rubicon trial fonts on worldwide web
You can find trial versions of Rubicon fonts on our web site, by search engine, or on popular software download sites as follows:
Edge smoothing creates the illusion of higher resolution on-screen

Edge smoothing is a technology that smoothes the edges of characters on-screen by modifying the colour of the pixels. This creates the illusion of higher resolution and more legible characters. Rubicon fonts are programmed to take advantage of edge smoothing so we recommend enabling it.


To enable edge smoothing on Windows 2000 do the following:




1. Navigate to the Display control panel
2. Click Effects
3. Select Smooth edges of screen fonts
4. Click OK
Beginning with Windows XP, Microsoft provides ClearType edge smoothing. ClearType is enabled by default in Windows Vista and Windows 7. To enable ClearType in Windows XP refer to the corresponding link at the left.
Learn more about fonts on Wikipedia


To learn more about familiar fonts and the companies and products that use them refer to the following articles:
Tips for improving font legibility on-screen
Colophon

This web site was created in Chelsea, Quebec, Canada using the following software:



Windows Vista




Sea Monkey 2.04




Macromedia Dreamweaver MX




Adobe Photoshop CS2